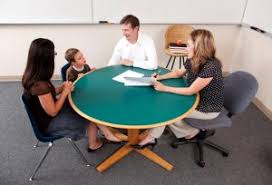 Tips for preparing your child for a school interview
at 15/20/2012
We will Talk school interview and some tips for you and your child.
make a research for the school you will go to through the internet or social media to prepare your-self well for school interveiw.
Prepare your-self before your child to the school interview and try to make many scenarios for interview and expect the questions that may be interviewer asked you.
Try to wear formal dress and if you can let your child wearing clothes color close to school uniform.
Don't be so tension because it will transfer to your child even if you don't mean that in that case he won't do well at interview even if he is good at KG. trust in your-self and your child and transfer this trust to him.
Don't give a bad feedback or negative words about school you are visited keep your opinion inside you may be when you finished visiting schools this school the most suitable one for you.
Don't mention any hobbies not really you are doing it its not important to tell them you are like Naguib Mahfoz and Lames Gabir be your-self.
Facebook, Twitter, Linkedin, Instagram, Google-plus

Reference: Thoughtco, independentschoolparent , thoughtco , thoughtco
childmags , kiddykare